Hello and welcome to September and the start of Autumn.
This month it is my turn to host the challenge over at Country View Challenges and I want to use you Complementary Colours.
Complementary Colours are the colours on the colour wheel, which are on the opposite.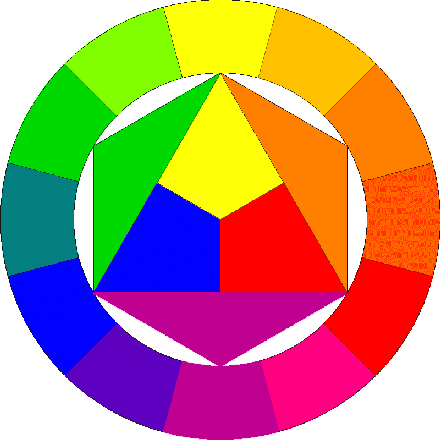 I made an art journal page and used orange and teal/blue.
I made a process video, so if you want - enjoy watching!
I started by glueing down some washi tapes, one from a Dollar store and the other two from Tim Holtz. Then I added some lace and prepared the surface with clear Gesso.
Now I took a stencil from finnabair and stenciled randomly with black Gesso. When dry I took another stencil, this time one from Tim Holtz, and spread Modeling paste through it and dried it.
Next I watered down blue and green Gouache to my weted background and then the orange Gouache. I also made splatters with blue and orange paint. To dull the colors a little bit, I went over the whole pages with matte wax in white. Then I randomly stamped a very old BoBunny word stamp here and there with black Versafine Clair ink.
I enhanced the structure of the stenciled area with a black brush marker and wiped it with my fingers around. Then I glued down the beautiful butterflies, stamped the Journal words stamp from Rubber Dance to white cardstock and cut out the words. I distressed the edges with black ink before I also glued them down.
Now I only had to make some white dots with a posca pen for more interest and last but not least I thought, the pages would need some black splatters.
I hope you like my journal page as much as I do!
Here are some close ups:
Now I am curious to see, what you will make for our challenge now.
I´ll be back in a few days and hope you will come back here again!
Thank you for your visit today and have a wonderful week!